Mini Aloha
coffee table
STANDARD OPTION
CUSTOMIZE ME! OPTION
ADD TO CART
CUSTOMIZE ME!
No worries, free returns !
FEATURES
Dimensions
CARE
CONDITIONS & SHIPPING
Like its big sister, the Mini Aloha coffee table is a best-seller for Sengtai. Its designer shape and unique style will bring lots of character to your living room while giving it a Scandinavian feel. This coffee table is in the shape of an almond; it has been worked to allow the natural pattern of the material appear with a lovely curve on the table edge which is faithful to its source of inspiration. Interior design fans will not be able to resist this unique, contemporary design. Perfect for small spaces or small living rooms, the Mini Aloha coffee table is 125 cm long and 70 cm deep with a choice of two heights, 30 or 40 cm. The classic Aloha model is larger at 156 cm long and 85 cm with a height of 30 or 40 cm. The Mini Aloha coffee table is offered in natural colour with only a varnish to protect the material; its solid natural style provides lots of warmth to your home decoration.

Made entirely from solid bamboo, the Mini Aloha coffee table is manufactured in our own workshop with our unique expertise in this high-grade, durable material. Bamboo is very robust and, thanks to the varnish, your table will be protected from marks making it practical and easy to use on a daily basis. In terms of maintenance, nothing could be easier: just use a soft, damp cloth to remove dust and marks.

The Mini Aloha coffee table will fit in with a designer-style décor just as well as with a vintage-inspired décor. Its very graphic, gentle style will give a warm, friendly feel to your living room when you receive your friends or family. Its wood colour will go perfectly with your existing furniture.
> L125 x P70 x H32 cm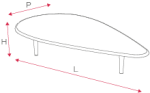 > Maison Wasabi products are easy to maintain, requiring little cleaning; just use a soft, damp cloth to remove dust. The varnish and lacquer on surfaces prevent stains and protect against the knocks of daily life, giving a durable and long life piece of furniture.

> Free returns
> 8 days to change your mind
> 100% secure payments
> Shipping within 8 to 10 working days